CLOUD COMPUTING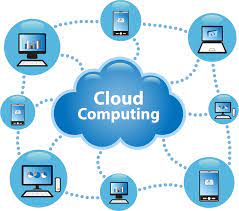 Cloud computing is an on-demand access, we can compute resource applications, servers, data storage, development tools, networking capabilities and more via the internet where it can be hosted at remote data center managed by a cloud service provider CSP. The CSP makes these resources available for monthly / yearly subscription fee or bills them according to usage.
Advantages of cloud computing:
·       Lower IT costs.
·       Improve agility and time to value.
·       Scale more easily and cost effectively.
·       Visualization of the data.
Cloud Based Software:
Software which is hosted in the cloud does not need storage to store the data internally, that we can access and use via browser in our system or phone where we don't want to be specified about the storage path.
Cloud technology works through data centers. Instead of using the storage space on your phone, computer or tablet, your information is housed in virtual servers. These virtual servers connect to huge data centers which have the infrastructure to store and protect your data. These Cloud based Software companies will  be safe and secure.
Speed to market:
Marketing the app will be quick while the data are developed in the cloud.
Data Security:
 The Cloud have backup process so the hardware failure will not loss the data.
Savings on equipment:
Cloud computing uses remote resources, saving organizations the cost of servers and other equipment.
Security of the Cloud Storage:
It's natural to wonder if your data is safe when it's stored in the cloud infrastructure. After all, your files, photos and videos are being stored on servers that are not under your control. You might wonder how vulnerable these servers are to cyberthieves.
Though; The data that you save with cloud service providers may likely be safer than the information you've stored in your computer's hard drive. Remember, hackers can use malware and phishing emails to get the information stored on your own devices. They might freeze your computer, demanding a ransom before they'll release the files and data they've frozen.
"The security measures undertaken by larger companies providing cloud services are likely to be more robust and powerful than what you have protecting your home computer and devices."
Consistent security updates:
How often do you ignore those notifications to update your operating system, browser or email service? That's a no-no in the world of computer security. Those updates often contain tools designed to protect your devices from the latest viruses or malware.
When you store your data in the cloud, though, the companies overseeing the servers should be consistently updating their security measures. You won't have to worry about forgetting to run an update. Your cloud service provider will regularly update its security measures.
AI tools and auto-patching
Cloud providers are also turning to artificial intelligence, or AI, to help protect your data. This is important: It's not easy to find experienced security professionals to oversee data. Cloud providers, though, can instead turn to AI to tackle at least the first level of security analysis. These programs rely on built-in algorithms to seek out and identify possible vulnerabilities in security measures.
Built-in firewalls
Cloud providers rely on firewalls, too, to help protect your files. As the name suggests, this technology acts a bit like a wall keeping your data safe.
Firewalls, which can be hardware- or software-based, apply rules to all of the traffic coming into a network. These rules are designed to filter out suspicious traffic and to keep your data behind the wall. This makes it more difficult for hackers to slip malware or viruses past the security measures used by your cloud service provider.
Redundancy (ultra-backed-up data)
But what about hardware failures or power outages? Will you be able to access your data if your cloud provider suffers a natural disaster or large-scale outage?
Yes, because most of the biggest cloud providers practice redundancy. This means that they copy your data several times and store them on many different data centers. This way, if one server goes down, you can access your files from a back-up server.
Third-party security testing
Your cloud provider should also hire outside security companies to test their servers and software regularly to make sure they are safe from hackers, cybercriminals and the latest malware and viruses. This outside testing boosts the odds that your cloud provider will have the defenses needed to keep your files away from hackers.
Enable two-factor authentication
You can make life more difficult for hackers by enabling two-factor authentication. As the name suggests, two-factor authentication requires you to provide two pieces of information when logging onto a site.
Say you are logging onto your bank's online site. First, you provide your username and password, as usual. Then you wait for your bank to send a code to your email address or phone. You then enter this code online to access your accounts. This extra step makes it more difficult for hackers to get at your emails, personal information or financial information.
Statistics in Cloud Computing:
Cloud Computing a vital roll in many sectors because in these modern days every data we acquire are big data. Cloud computing helps to leisure the work of the system storage. So the statistical view of the cloud based software on the sectors in India.
·         81% of all enterprises have reported that they have a multi-cloud strategy already laid out or in the works.
·         At the end of 2021, 67% of all enterprise infrastructure was cloud-based.
·         It is reported that 82% of the workload will reside on the cloud
·         Amazon web services have the largest cloud computing market share at 32%.
·         Platform-as-a-Service (PaaS) is expected to grow in adoption to 56% by 2020.
1. Cloud computing apps have nearly tripled since 2013, from 545 to 1427 different services.
Cloud-based apps are expanding by the day, and research from Sky high reported rapid growth in adopting cloud computing systems from 600 international enterprise businesses. As organizations progressively adopt a no-office operation, connecting employees and sharing information through a secured network is the go-to option.
2. By 2021, a staggering 83% of the company workload will be stored on the cloud.
Forbes
A staggering 83% of the company workload will be stored on the cloud as a growing number of companies continue to move from private to the public cloud. Even though the shared model gives you less control, you can still enjoy optimum security and ease-of-access.
3. The most prominent industries looking to spend the most on cloud computing in 2021 are manufacturing ($20 billion), professional services ($18 billion), and banking ($16 billion)
IDC
According to the IDC, the most prominent industries expected to spend the most money are manufacturing at $19 billion, professional services at $18 billion, and banking at $16.7 billion.
Looking at the cloud adoption trends, industries that deal with the most data yield the most active investors. The banking sector fits perfectly with this technology as they often need to retrieve heaps of delicate information from multiple secure locations.
4. The average employee uses 30+ cloud-based services daily.
Sky high
Sky high claims that The average employee uses 36 cloud-based services in their daily routine.
With over 200 services in the collaboration category alone, this stat comes as no surprise. There are other categories in cloud computing like collaborative tasks, file sharing, content sharing, data security, and more that have given rise to many different services.
5. The public cloud market alone generated $130 billion.
Statista
Statista reported that the public cloud market alone generated $130 billion. It's important to know that the cloud industry can be split into three models — Public, Private, and Hybrid. Of the three, the public cloud model offers all the advantages of the virtual network environment for the wider community to enjoy.
6. Revenue from the public cloud sector is expected to jump to $331 billion by 2022 from $175 billion in 2018
Gartner
According to Gartner, the future is looking bright for the public cloud sector, and it is expected to grow from $175 billion in 2018 to $331 billion in 2020. Breaking down that statistic and looking at the previous year-to-year growth for comparison, the industry registered a massive 21% jump.
7. Demand for servers, Ethernet switches, and enterprise storage solutions is growing at the rate of 10.9%.
IDC
Cloud computing statistics from the IDC show a 10.9% growth rate of the demand for servers, Ethernet switches, and enterprise storage solutions. If this prediction turns out to be accurate, public cloud vendors will make more money and extend their influence. As such, IT infrastructure spending will reach $55.7 billion by 2022.
8. 7% of businesses firmly believe they have useful overall mission-critical company information.
Red Lock
The need for a secure and well-structured cloud service is the priority is undeniable, and looking at the numbers, enterprise cloud adoption seems inevitable. A recent survey from Red lock revealed that 7% of businesses believe that they have useful overall mission-critical company information.